returning to life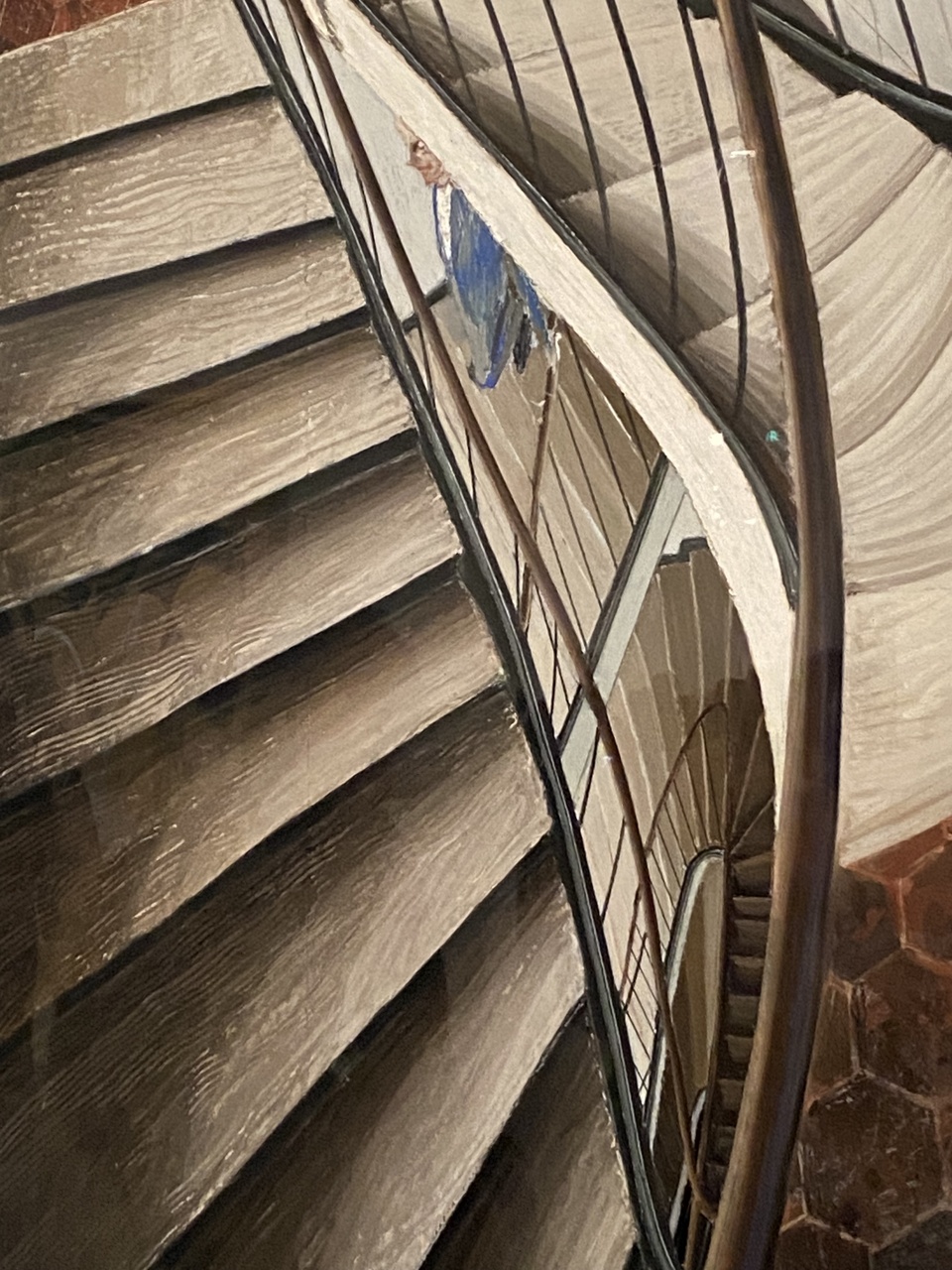 February 13, 2023
MY NEWS
After 3 years of lockdowns and gradually loosening restrictions, we finally made it back to Paris in December 2022, finding the city a little grayer, very rainy, less exuberant and more careworn, but it was still Paris! The art exhibitions were inspiring — Alice Neel at the Pompidou, Rosa Bonheur at the Orsay, and Sam Szafran at the Orangerie — the latter a true discovery for me as I did not know his works, and I was particularly fascinated by his dizzying, metaphysical staircases leading up and down into different dimensions — in Rue de Seine. A perfect example for my Staircase exercise from the Soul of Place. (https://magiclibrarybomarzo.wordpress.com/2017/11/30/6-place-writing-prompts-from-my-american-library-in-paris-presentation/) Artworks are still an important source of inspiration for my writing. A glimpse of the staircase in the building where Modigliani's studio once was located provided the initial spark for my new novel Loving Modigliani.
KATHERINE MANSFIELD CENTENNIAL
January 2023 was an important date on my calendar — with the centennial of Mansfield's death at Gurdjieff's Institute for the Harmonious Development of Man in Fontainebleau on January 9th. I have been working on a new radio play based on Mansfield's complex relationship with Virginia Woolf —- more news on that will be forthcoming. On my website, you'll find a giveaway: a free download of my short essay, entitled Katherine Mansfield & DH Lawrence: A Parallel Quest previous winner of the Mansfield Society Essay prize, dealing with the spiritual quests of these two writers and with Mansfield's life at Gurdjieff's institute.
My previous radio play produced by Yorick Radio Podcasts dealing with Woolf & Mansfield is still available at this link. https://yorickradio.buzzsprout.com/1084415/10203906-radio-revelry-a-public-of-two
More about Katherine Mansfield here: https://magiclibrarybomarzo.wordpress.com/2023/01/25/100-years-ago-katherine-mansfield-and-the-wish-to-be-real/
103 ANNIVERSARY MODIGLIANI & JEANNE
January 2023 was also the 103rd anniversary of the deaths of Jeanne Hebuterne & Modigliani, portrayed in my novel Loving Modigliani: The Afterlife of Jeanne Hebuterne.
More about Jeanne & Modi here https://magiclibrarybomarzo.wordpress.com/2023/01/25/jeanne-modi-103-years-later/
NEW COLLABORATIONS WITH ARTISTS
I am happy to announce two new collaborations with visual artists. Berkeley artist Irys Schenker will be illustrating my story The Marble Foot - an early story which includes many of the themes that later inspired my novels - including mythic journeys and ancient art.

With Janice Mason Steeves, Canadian abstract artist and leader of Workshops in the Wild, I will be teaching a Soul of Place writing workshop in the context of her painting workshop to be held in Vitorchiano, Italy in September 2023. https://workshopsinwildplaces.com/italy.php

Interesting notes from readers included a request for a Guide to Paris indicating places in the novel so that readers can trace Jeanne's steps. It's an intriguing idea and I will be blogging about that soon.
I was thrilled to find a review from author Jane Barry who claims that The Soul of Place is "The Number 1 Book I Recommend (and lend) To My Writer Friends."
WRITING EXERCISE: I'll be including a writing exercise based on The Soul of Place Creative Writing Workbook: Ideas & Exercises for Conjuring the Genius Loci in every new newsletter. This one is
The Stairs Exercise: Write about stairs — you stand at the top or at the bottom of a stairway, and you know that when you reach top/bottom you will enter a space where something life-changing will happen
BOOK GIVEAWAY ON TRIP FICTION

Lastly, I'd like to announce a free giveaway of three copies of my novel Loving Modigliani, through the fabulous travel& fiction website Trip Fiction! https://www.tripfiction.com/giveaway-3-copies-of-loving-mogigliani-by-linda-lappin-paris/
Ends on Feb 25,2023