Creative Writing News from Linda Lappin - Report from Andros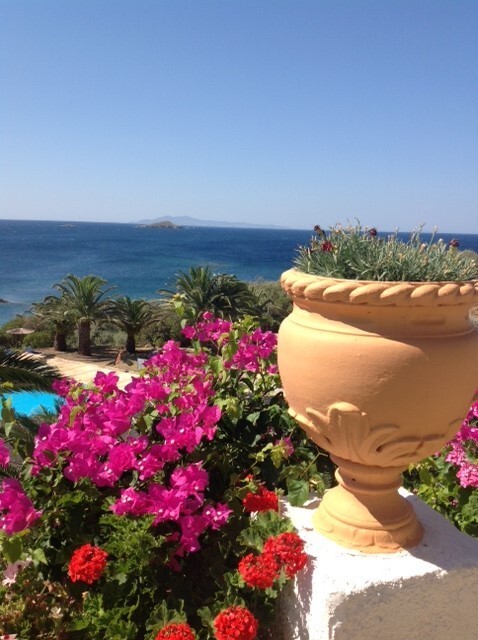 August 10, 2016
The 2016 edition of the
Aegean Art Circle Creative Writing Workshop
in Andros has concluded after five intense days of workshop encounters, writing activities, readings, and swimming on one of
the Cyclades lesser-known islands, Andros, with exquisite beaches. Participants stayed in the fabulous
Andros Holiday Hotel
in spacious rooms with a sea view. Meals were served at the tavern poolside (salt water) or on the terrace far above.
The evening meals prepared by the hotel chef featured fresh fish, moussaka, grilled squid, vegetarian dishes of eggplant and tomatoes, luscious deserts like lemon mousse and raspberry ice, all accompanied by fine local wines.
The workshop met in the mornings from 10 a.m. till around 1.30 p.m. in a conference room set in a garden of bougainvillea and aloes. Lunch time and afternoons were free to spend as we wished. At eight o'clock we convened again for informal readings with wine on a private terrace and then joined our spouses, traveling companions, and guests of the workshop who dropped by on various evenings, for dinner on the hotel terrace.
There were two public events -- a reading by Linda Lappin who read her prize-winning story about the forlorn Sicilian island of Alicudi, "Mal D'Isola" and a video showing by Sergio Baldassarre of his recent videos,
The Party's Over
and "The Professor's Teeth-"
During the workshop, our focus was on "islands" -- geographical, psychological, imaginary, metaphorical -- and a corpus of 25 new"soul of place" exercises based on "islands" and "island consciousness" was proposed, along with the material in
The Soul of Place -- A Creative Writing Workbook,
which participants used for the course -- covering everything from island houses and rough sea journeys to food writing about alien sea life. A more detailed report of exercises we experimented with is found in the blogs
Linda kept for the
Toureme
place-writing blog of Plymouth University.
Day 1
Blog 1
Day 2-3
Blog 2
Day 4-5
Blog 3
Recommended reading from the workshop ( just a few of the books we talked about or recommended to each other)
Broken Greek,
Adrianne Kalfopoulou
Ruin
, Adrianne Kalfopoulou
A Strangeness in My Mind,
Orhan Pamuk
Thin Paths,
Julia Blackburn
To the Lighthouse,
Virginia Woolf
Honey, Olives, and Octopus ,
Christopher Bakken
Also highly recommended
Books and Travel
a fascinating academic study by Warwick Frost and Jennifer Laing, recently reviewed by Linda for the Toureme Plymouth University place-writing and tourism program
We were sad to leave this island paradise, but are planning to return, perhaps to teach another workshop for the Aegean Art Circle in 2017, so please check back if you would like to attend.
Other workshops will be planned for Italy in the the spring at the
Centro Pokkoli
Other News
The Soul of Place A Creative Writing Workbook
recently won the Bronze medal in adult nonfiction in the
Foreword Reviews' 2015 Indie Fab Book of the Year Awards!
Last but not least,
The Soul of Place - A Creative Writing Workbook
served as a resource for the upcoming workshop on "Writing and Consciousness" with writer and psychologist Olive Travers in the enchanted county of Sligo in Ireland, focusing on the Art of Observation
Click here to find out more