Painting & Writing the Soul of Place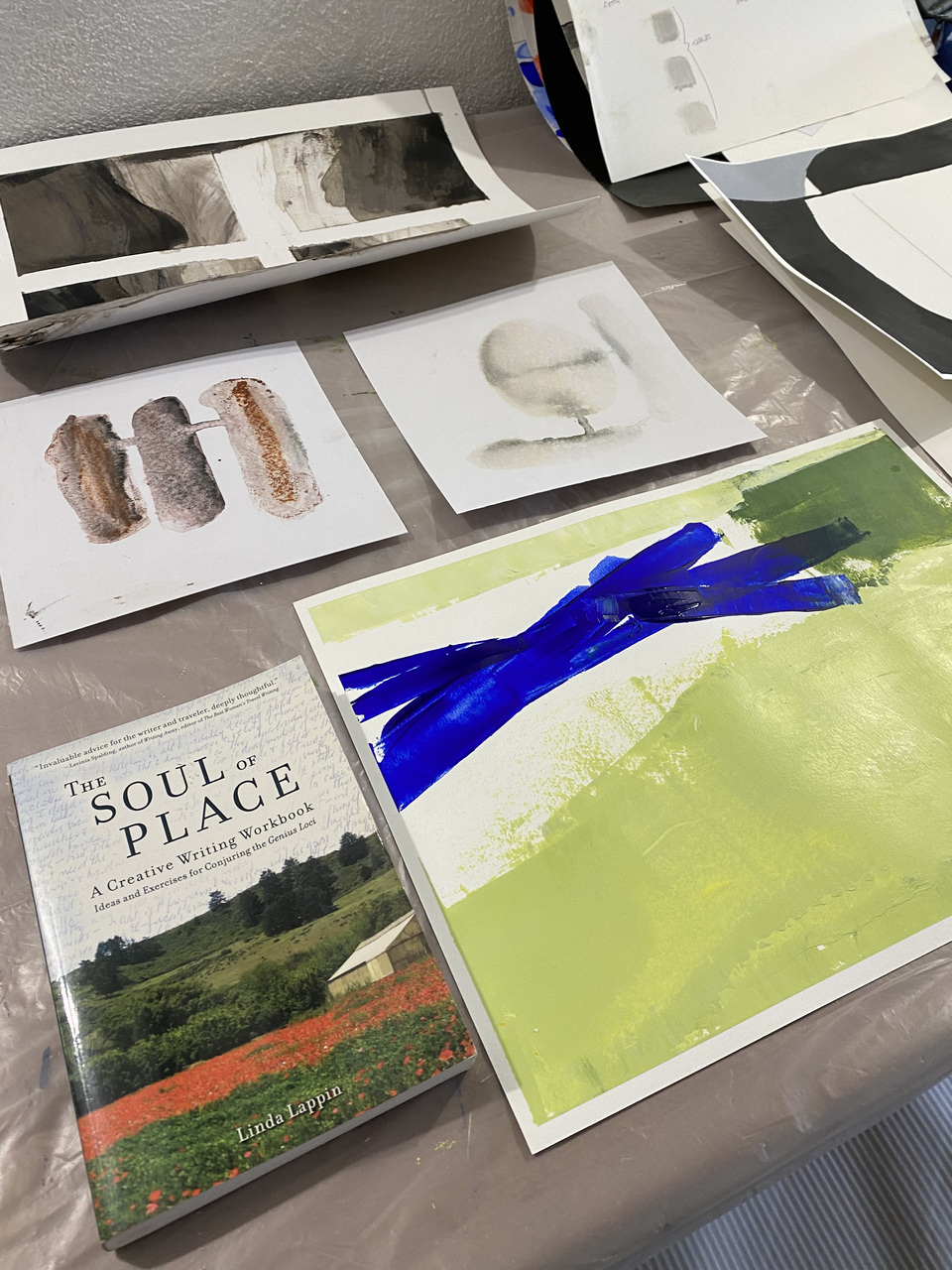 October 9, 2023
ITALIAN STORY-TELLING GARDENS - BOMARZO'S 500TH BIRTHDAY!
July 2023 marked the 500th anniversary of the creation of the Sacred Wood/ Park of Monsters in Bomarzo, an event celebrated together by the great artistic gardens of Tuscia from the sixteenth and seventeenth centuries along with the gardens created by contemporary artists/architects Niki de Saint Phalle, Paolo Portoghesi and Daniel Spoerri.

With this mind, I teamed up with Messy Nessy Chic's Cabinet of Curiosities, an eclectic Parisan culture blog, to publish this short piece on the hidden messages of Italian Story Telling Gardens. In celebration of the 500th anniversary of Bomarzo – My publisher Pleasure Boat Studio is releasing a second edition of Signatures in Stone: A Bomarzo Mystery, previous winner of the Daphne Du Maurier Award, with illustrations inspired by Tarot cards drawn by Santa Fe artist Carolyn Florek. Forthcoming this fall. At present it can be pre-ordered on all platforms except Amazon -- coming soon there too.
PAINTING & WRITING THE SOUL OF PLACE
In September, I teamed up with Canadian abstract painter, Janice Mason Steeves, organizer of Workshops in Wild Places to welcome her group of painters to Vitorchiano, a medieval village near Rome. For ten days, my little writing studio with its large, luminous workspace and tiny monk's cell posed over the gorge, was transformed into an artists' atelier. Desks and bookcases were pushed aside, more worktables borrowed, assembled, and covered in plastic-- the old red cotto floor papered over. All was made ready for our visiting artists.
Our goal was to seek out the soul of place in the natural surroundings and architecture of the village: its verdant gorge and old stone towers; its houses built of tufa and peperino; its olive and hazelnut groves, habitat of hoopoes and wild boar, and in the strong flavors of its cheese, wine, olive oil, bread, grapes. All this to be translated into color, images, words.

The group arrived on a sunny afternoon when the vendemmia was in progress and the heady odor of pressed grapes wafted from old cantinas into the cobblestone streets.
Observing the landscape, the painters started off by preparing color charts at different times of day -- capturing the nuances of stone, brick, lichen, leaf tips, night sky, rainy cobblestones, dawn clouds.

Under Janice's guide, they entered the stillness of stones through a meditation exercise and drew the sounds they heard in the gorge as preparatory phases to painting.
The painters referred to my place-writing guide The Soul of Place: Ideas & Exercises for Conjuring the Genius Loci for their writing exercises, including Reading the Signs of a Medieval Village, Synesthesia exercises, and Deep Maps.

Janice also introduced the group to local earth pigments under the guide of British artist Justin Bradshaw, contemporary figurative painter of international renown whose studio is nearby in Corchiano. Justin is known for his exquisite portraits and still life paintings, oils on copper, created with materials gathered locally --natural pigments and handmade brushes, according to ancient techniques past down through the ages. Rembrandt is a major influence on his work, as is Lucian Freud.

Justin Bradshaw's work displays extreme virtuosity of technique along with deep empathy for his subjects. "You're always painting yourself," he claims, "even when it's someone else's face. You mingle with their psychology. I am fascinated by people's stories. I don't think I could paint a brand new object because it doesn't have a story. I'm very drawn to the idea of "loss" -- as something you have had and lost -- or something you didn't have the courage to have..." (Interview with Laura Pasquini in TusciaUp)
His work has been described as "alchemical" -- and indeed his cabinet of natural pigments looks like something out of a seventeenth-century alchemist's laboratory.

The group made an excursion to Bomarzo-- the alchemical sculpture/storytelling garden that served as the inspiration for my novel Signatures in Stone: A Bomarzo Mystery , winner of the Daphne Du Maurier Award for suspense writing. They also visited Orvieto, where they admired the duomo and the Signorelli frescoes.
The colors, shapes, stones, and walkways of the Tuscia provided a rich environment for experimentation.

For centuries, the area of the Tuscia Viterbese and the Tuscia Toscana has attracted artists and writers. Aside from the masters of the sixteenth and seventeenth centuries, in more modern times, Tuscia has inspired Turner, Escher, Dali, Niki de Saint Phalle, Balthus, among many. Balthus's studio isn't far from Vitorchiano, located in the castle of Montecalvello and is open to the public by appointment. Niki de Saint-Phalle's phantasmagoric Tarot Garden, partly inspired by Bomarzo, is also within an easy drive. Unfortunately, there was just too much to see this time around. Perhaps, next time.

Speaking of alchemy, near the end of their stay, the workshop enjoyed a wine tasting at a local cantina - where they tried the local merlot, along with bruschette, olives, fried mozzarella croquettes, and a magnificent cake made with mosto, the first pressing of this year's vendemmia.

This area of Italy called the Tuscia remains untouched by tourism. Here the local people still live by ancient trades: wood cutting, tending sheep, producing wine and olive oil, quarrying and carving peperino, the volcanic stone which has provided the town's livelihood for centuries. Beneath the quiet meadows blanketing the countryside lies a honeycomb of tombs extending for miles on end. Under the Etruscan shade lies a realm of mystery and eerie legend.

For more information on Janice Mason Steeves' Workshops in Wild Places, see her website. Her next destination is Spain, in October-November 2023, gathering earth pigments along the Cammino, and exploring sacred geometry.
Justin Bradshaw will be exhibiting this fall in Rome 2023. For more information about his work and exhibitions, please see his website.

The Soul of Place –A Creative Writing Workbook. Ideas & Exercises for Conjuring the Genius Loci

This little book is making its way in the world, and just received a wonderful endorsement from FRANCES MAYES
"This is such a pleasure to read. Unlike most books with writing prompts, this one goes in depth with sensitizing you to ground yourself in awareness of where you are and why. Grazie, Linda, for this marvelous work." -Frances Mayes, Under the Tuscan Sun

It was also a recent book pick by JOANNA PENN for her publishing and her travel writing podcasts. I'll post links to the podcast when it goes live.
The book has also been adopted by an upcoming Eckerd College Winter Term as a guide for exploring & writing about Paris. How cool is that!

WRITING EXERCISE
I promised to include a writing exercise in each newsletter. Here's a new one. In his poem, STONE, Charles Simic writes: "Go inside a stone -- that would be my way...From the outside, the stone is a riddle. No one knows how to answer it. Yet within, it must be cool and quiet..."
Look around your environment, choose an object made from a natural material, and write about it as if from the inside.